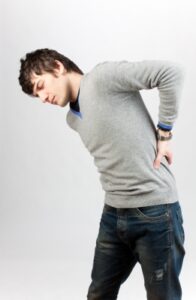 Low Back Pain leads to millions of dollars of lost work and untold suffering every day.  And studies show that 80% of people will experience back pain at some point in their lives. Many factors can be responsible for Low Pack Pain such as improper lifting, over-exertion, stress, and trauma. Many research studies have shown that chiropractic care is safer and often more effective than back surgery.  The simplicity and success of chiropractic adjustments has helped many patients avoid risky surgery….no drugs, nothing invasive, just pain relief.
Until recently, researchers believed that back pain will "heal" on its own.  However, a recent study showed that when back pain is not treated, it may go away temporarily, but will most likely return.  Only 9% of the people who had low back pain for more than 30 days were pain free 5 years later.
If your back pain is not resolving quickly, visit your chiropractor.  Your pain will often result from mechanical problems that your chiropractor can address.  It reduces pain, decreases medication, rapidly advances physical therapy, and requires very few passive forms of treatment, such as bed rest.  Studies show that adjustments by a chiropractor are the most effective way to treat back pain!
One of our South Jordan patients writes, "I am a nurse and after a 12-hour shift at the hospital I would literally leave, get in my car, and cry because of pain in my lower back.  After a couple of months of seeing Dr. Burrup that was no longer the case.  I can now work a 12-hour shift and have minimal to NO pain by the end of the day.  This has all happened with four months of treatments…I will keep seeing Dr. Burrup for years to come.  This is the best I have felt in years!" –LH
For more information on how a chiropractor can help you, please see our Chiropractic Page on our website.
The Institute of Chiropractic & Acupuncture Therapy provides care in Salt Lake City and surrounding areas including West Jordan, South Jordan, Sandy, Draper, Taylorsville, Murray, Riverton, Herriman, Bluffdale, Cottonwood Heights, Holiday, Millcreek, West Valley City, and South Salt Lake.  We also provide chiropractic and other holistic services to patients that come from the Utah County area and as far north as Logan, and even some from out of state…come experience the difference at The Institute! Image courtesy of freedigitalphotos.net.