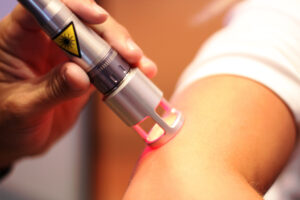 Dr. Trent Burrup is certified in providing Class IV Laser Therapy to treat a wide variety of conditions, especially pain management for acute and chronic injuries and conditions.
Laser Therapy, also known as "hot laser", "Class 4 Laser Therapy" or "K laser Therapy", uses red and near-infrared wavelengths of light to create therapeutic effects in the body.
Laser therapy is proven to biostimulate tissue repair and growth.  The Laser accelerates wound healing, and decreases inflammation, pain, and scar tissue formation.  When it comes to pain management, Class IV Laser Therapy provides dramatic results, is non-addictive and virtually free of side effects.
During each painless treatment, laser energy increases circulation, drawing water, oxygen, and nutrients to the damaged area.  This creates an optimal healing environment that reduces inflammation, swelling, muscle spasms, stiffness, and pain.  As the injured area returns to normal, function is restored and pain is relieved.
Numerous research studies show that laser treatments can help with these conditions:
Arthritis
Back Pain
Carpal Tunnel Syndrome
Fibromyalgia
Knee Pain
Shoulder Pain
Sports Injuries
Work or Auto Related Injuries
Soft Tissue Injuries
Tendinopathies
Tennis Elbow
Sprains, Strains
Repetitive Stress Injuries
Plantar Fasciitis
Degenerative Joint Conditions
Rheumatoid Arthritis
Osteoarthritis
Diabetic Neuropathy
Neurogenic Pain
Herpes Zoster (Shingles)
Diabetic Foot Ulcers
Chronic Non-Healing Wounds
Venous Ulcers
Amputee Stumps
Burns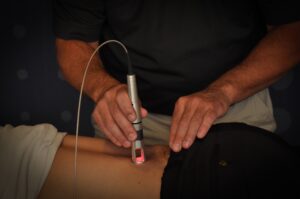 Dr. Trent Burrup is a chiropractor certified in Class IV Laser Therapy and provides care for patients in Salt Lake City and surrounding areas including West Jordan, South Jordan, Sandy, Draper, Taylorsville, Murray, Riverton, Herriman, Bluffdale, Cottonwood Heights, Holiday, Millcreek, West Valley City, and South Salt Lake.  We also provide service to patients that come from the Utah County area and as far north as Logan, and even some from out of state…come experience the difference at The Institute!
To see FAQs and find out more about Class IV Laser Therapy, Click Here to visit our Glossary Page