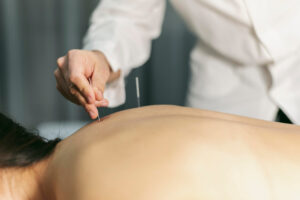 Dr. Trent Burrup is a certified acupuncturist through the International Academy of Medical Acupuncture.  He has had tremendous success helping people with a variety of health concerns, many of which have not responded well to traditional Western medicine.  Hundreds of clinical studies on the benefits of acupuncture show that it successfully treats conditions ranging from musculoskeletal problems (back pain, neck pain, and others) to nausea, migraine headache, anxiety, depression, insomnia, and infertility.  Dr. Burrup treats all these conditions and many others with acupuncture, as well as chiropractic and other holistic therapies.
Acupuncture helps balance the flow of energy in the body, which promotes the body's natural self-healing process.  This is done by working with the meridian systems of the body and specific acupuncture points on those meridians.  Meridians are energy channels through which energy flows and if the energy flow is balanced, one should be healthy.  There are many different ways to balance the flow of energy which include needles, lasers, herbs, electrical stimulation, and massage.
Acupuncture takes a holistic approach to understanding normal function and disease processes and focuses as much on the prevention of illness as on the treatment.  In Traditional Chinese Medicine acupuncture is used in every aspect of health care.
Dr. Trent Burrup is a chiropractor and a certified Acupuncturist through the International Academy of Medical Acupuncture.  He provides acupuncture in Salt Lake City and surrounding areas including West Jordan, South Jordan, Sandy, Draper, Taylorsville, Murray, Riverton, Herriman, Bluffdale, Cottonwood Heights, Holiday, Millcreek, West Valley City, and South Salt Lake.  We also provide service to patients that come from the Utah County area and as far north as Logan, and even some from out of state…come experience the difference at The Institute!
Video Library: Click Here
To see FAQs and find out more about Acupuncture, Click Here to visit our Glossary Page