The Institute of Chiropractic & Acupuncture Therapy was started in 2002 by Dr. Trent J. Burrup.      (OFFICE TOUR PHOTOS Click Here)
Dr. Burrup received his Doctor of Chiropractic degree from Palmer College of Chiropractic in Davenport, Iowa. He has also received other certifications in an effort broaden his knowledge in the healing arts and offer a wider range of therapies and treatments to his patients. Dr. Burrup has received over 200 hours of training in Applied Kinesiology (AK) through the International College of Applied Kinesiology. His acupuncture certification was completed through the International Academy of Medical Acupuncture and he has completed numerous courses through the Upledger Institute of Cranio-Sacral therapy. He is also a
Certified Chiropractic Extremity Practitioner (C.C.E.P.) through the Council on Extremity Adjusting where he received specialized training in working with sports related injuries.
Some of the specific chiropractic techniques and methods Dr. Burrup has been trained in and uses include Gonstead, Diversified, Thompson, Activator, Toggle Recoil, Nimmo, and Sports Injury and Extremity adjustment.
To see how Dr. Burrup lost 46 lbs to run the St. George marathon and trained only 3 days per week:  CLICK HERE
Dr. Burrup is a Blue Belt in Brazilian Jiu-Jitsu (Gracie style) and enjoys running marathons, motorcycling, camping, playing guitar, and loves family time with his wife, Carolynn and their 3 children.
Dr. Burrup is also a Certified Master Firewalk Instructor through The Firewalking Center as well as The Firewalking Institute of Research and Education. To visit Dr. Burrup's firewalking site Click Here
Video Library: Click Here
Dr. Burrup provides outstanding chiropractic and wellness care to patients in the Salt Lake City and surrounding areas. The goal of our clinic is to help our patients become empowered with their health, achieving their optimal wellness goals. If you are suffering needlessly from pain, have a condition that has not responded to well to medical care or other treatment, or are trying to achieve optimal wellness in your life, come in and see how Dr. Burrup can help you. Dr. Burrup goes the extra mile to help you get well and stay well. Become empowered with your health!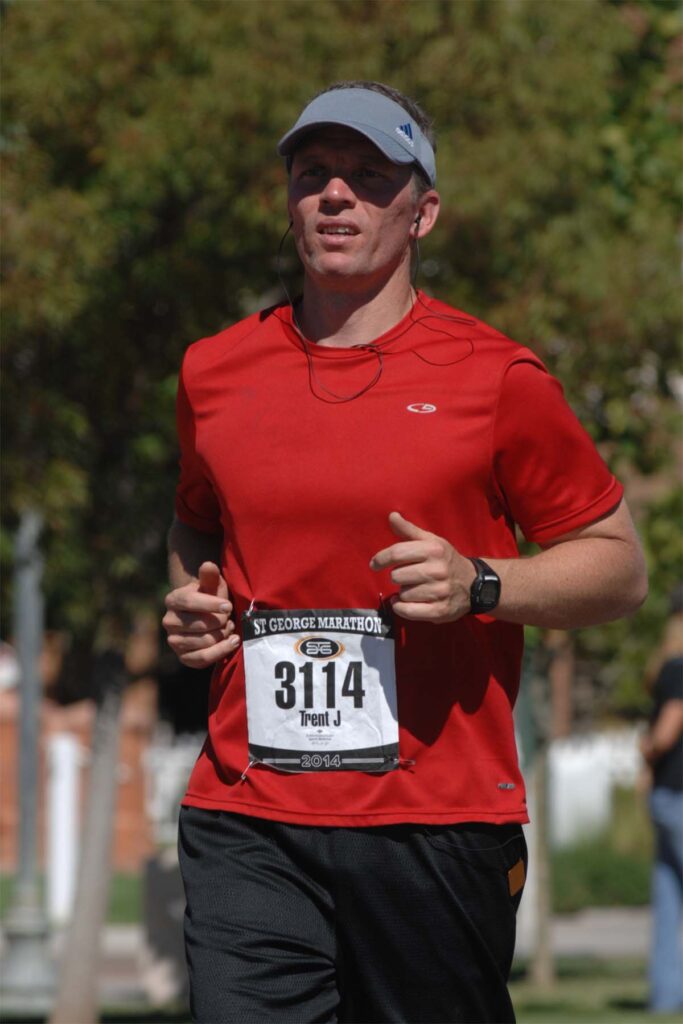 Dr. Trent Burrup, Chiropractor, runs St. George Marathon in 2014