Computerized Health Analysis
MSA (Meridian Stress Assessment)
There is no more guessing about your health care! By utilizing the MSA to evaluate your need for nutrition, homeopathy, etc., Dr. Burrup does not have to play the statistical guessing game. The MSA communicates with the body to tell the doctor exactly what the patient needs and whether it will work or not.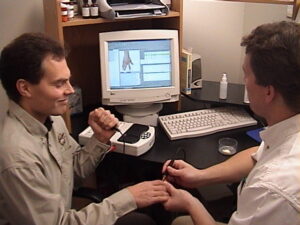 Through this MSA computer test we can find imbalances in the body including such things as unresolved bacterial infections, viral infections, parasites, heavy metal overload such as mercury or lead toxicity, food sensitivities, and chemical and/or digestive problems to name a few. The MSA is also effective in detecting allergies so that remedies can be recommended for allergy desensitization.
Remedies for imbalances recommended by the doctor could include, but are not limited to, homeopathic remedies, Bach flowers, herbal remedies, specific vitamins and/or minerals, enzymes, phytonutrients, and amino acids. Dr. Burrup completes a thorough review of your comprehensive medical and nutritional history prior to the test and may recommend other therapeutic measures to improve your condition including dietary modifications, chiropractic adjustments, massage, rehabilitation, or acupuncture.
The Meridian Stress Assessment (MSA) uses safe, skin-level measurements of electrical resistance and polarization at acupuncture points on the skin. Through these points, it is possible to analyze the bio-energy and bio-information produced by internal organs and systems of the body. This process is called Electrodermal Screening. Other common names for this are EDT, or EDS, or EAV testing.

Dr. Trent Burrup is a chiropractor certified to perform MSA testing on patients in the Salt Lake City and surrounding areas including West Jordan, South Jordan, Sandy, Draper, Taylorsville, Murray, Riverton, Herriman, Bluffdale, Cottonwood Heights, Holiday, Millcreek, West Valley City, and South Salt Lake. We also provide service to patients that come from the Utah County area and as far north as Logan, and even some from out of state…come experience the difference at The Institute!
To find out more about our Computerized Health Analysis, Click Here to visit our Glossary Page