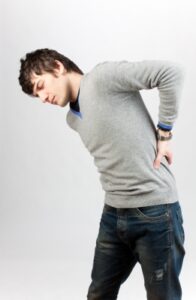 Low Back Pain results in millions of dollars of lost work and untold suffering every day.  Many factors can be responsible for Low Pack Pain.  Improper sitting or lifting, over-exertion, sleeping on a mattress too firm or too soft, stress, trauma, or even inherited spinal abnormalities can be the cause. Many research studies have shown that chiropractic care is safer and often more effective than back surgery.  The simplicity and success of chiropractic adjustments has helped many patients avoid risky surgery….no drugs, nothing invasive, just pain relief.
One of our South Jordan patients writes, "I am a nurse and after a 12-hour shift at the hospital I would literally leave, get in my car, and would cry because of pain in my lower back.  After a couple of months of seeing Dr. Burrup that was no longer the case.  I can now work a 12-hour shift and have minimal to NO pain by the end of the day.  This has all happened with four months of treatments.  I feel Dr. Burrup has saved my life so to speak, because without his help, I know without a doubt I would have had to quit my job and take an early retirement, which would have been disastrous for me and my family.  I had seen five or six chiropractors before Dr. Burrup and none of them helped me.  I will keep seeing Dr. Burrup to keep me going for years to come.  This is the best I have felt in years!" –LH
For more information on how a chiropractor can help you, please see our Chiropractic Page on our website.
Image courtesy of graur razvan ionut at FreeDigitalPhotos.net