Headaches are common, NOT normal.  And because they are so common, many people think that getting a headache is just a normal part of life!  It doesn't have to be……
Headaches are most often a sign that something is not right in your body.  There are many types of headaches and many things can cause headaches such as: stress, hormones, certain foods, preservatives, alcohol, and toxic fumes, just to name a few.  A frequent and overlooked cause of headaches is the malfunction of spinal bones in the neck and upper back…bones being out of alignment.  This can affect the nerves and blood vessels to the head.  When nerves and surrounding tissues are stretched or irritated because of misalignment, they can produce painful headaches.  Medications may cover up the pain, but do not correct the underlying structural cause.
Many people find relief and correction with chiropractic care.  The Institute of Chiropractic and Acupuncture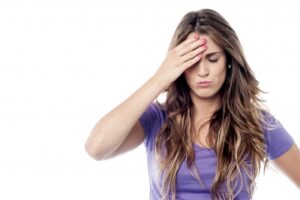 Therapy has helped many people get drug-free results, drastically reducing or totally eliminating patient's headaches!  Some estimates suggest that 25% of the population has a headache right now…are you one of them?
For more information on how chiropractic, acupuncture, and other modalities can help your headaches, please see our What We Do page at SuperDocDC.com.
Dr. Trent Burrup is a chiropractor and graduate of Palmer College of Chiropractic.  He provides chiropractic care in Salt Lake City and surrounding areas including West Jordan, South Jordan, Sandy, Draper, Taylorsville, Murray, Riverton, Herriman, Bluffdale, Cottonwood Heights, Holiday, Millcreek, West Valley City, and South Salt Lake.  We also provide service to patients that come from the Utah County area and as far north as Logan, and even some from out of state…come experience the difference at The Institute!
Photo by freedigitalphotos.net