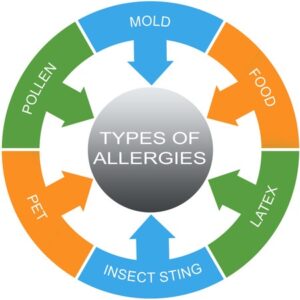 The Fall Allergy Season is upon us again…are you still suffering from allergies? Did you know that there are other ways to deal with allergies besides prescription or over-the-counter medications?
The Institute of Chiropractic and Acupuncture Therapy uses various techniques for allergy identification and treatment, including NAET and ASERT, acupuncture, computerized allergy testing and personalized homeopathic remedies.  NAET (Nambudripad's Allergy Elimination Techniques) and ASERT (Allergy/Sensitivity Elimination and Reprograming Technique) are holistic allergy treatments that use acupuncture therapy and other hands on techniques to help desensitize allergies. There are many alternatives to addressing allergies and sensitivities that do not involve drugs or medications! Types of allergies that we can treat are seasonal allergies, food allergies, hay fever, and allergies to pets and other animals.
The computerized allergy testing scans for many different allergies and sensitivities.  With that information we are then able to recommend appropriate homeopathic remedies, nutritional and herbal supplements that will help reduce allergies and improve the body's response to the environment.
For more information please see our ALLERGY PAGE and COMPUTERIZED HEALTH ANALYSIS page.
The Institute of Chiropractic & Acupuncture Therapy provides allergy, wellness, and chiropractic care in Salt Lake City and surrounding areas including West Jordan, South Jordan, Sandy, Draper, Taylorsville, Murray, Riverton, Herriman, Bluffdale, Cottonwood Heights, Holiday, Millcreek, West Valley City, and South Salt Lake.  We also provide service to patients that come from the Utah County area and as far north as Logan, and even some from out of state…come experience the difference at The Institute!