The disc is a small cartilage pad that is situated between spinal bones.  Each one serves as a connector, spacer, and shock absorber for the spine.  When healthy, discs allow normal turning and bending.
If a spinal joint loses its normal motion, the health of the disc deteriorates.  Trauma or injury to the spine can cause discs to bulge, herniate, or worse, rupture.
The chiropractic approach to disc problems is to help restore better motion and position to the spinal joint.  Besides reducing disc bulging, better spinal function helps reduce inflammation and begin the slow process of healing the surrounding soft tissues.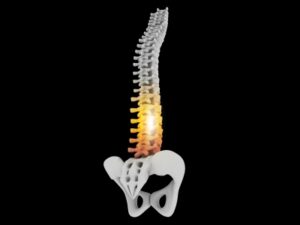 One of our Salt Lake City patients writes, "When I came into Dr. Burrup's office for the first time I could barely walk.  My lower back has given me grief for the past four years due to a herniated disc.  I came to Dr. Burrup frustrated, desperate, and fed up with the pain and inconvenience of a back injury.  By the end of that first appointment, even though I didn't feel any different physically, I finally felt like there may be some hope for a normal, pain free life.  I am after all only 37 years old and have a lot more live to live.  Within the first two weeks of treatment I felt a dramatic difference in my back.  I felt stronger, more agile, and had more confidence in my body's ability to move and LIVE than I had felt in four years!  Since then, now six months later, I continue to feel an amazing difference in my quality of life and ability to live and move without the fear of losing mobility at any moment.  It has truly changed my life!" (H.J., Salt Lake City)
For more information on how a chiropractor can help your disc problems, please see our Chiropractic Page on our website.
Dr. Trent Burrup provides care in Salt Lake City and surrounding metro areas including West Jordan, South Jordan, Sandy, Draper, Cottonwood Heights, and South Salt Lake.  come experience the difference at The Institute!
Image courtesy of cooldesigns at freedigitalphotos.net