We found a great article on Neck Pain Prevention from www.healthcentral.com. In addition to regular chiropractic visits, these are things you can do every day to prevent neck pain.
Life can be a real pain in the neck. Don't let it happen to you! Here are  10 ways to prevent neck pain from slowing your life down.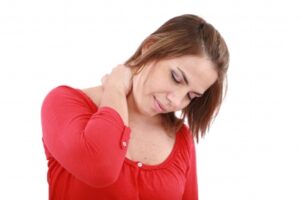 1.      Beware of Bifocal and Trifocal Glasses: If you are reading this through the bottom section of your glasses, then you are likely positioning your head and neck in an awkward position to do so. The best way to avoiding pinching your neck in order to utilize all portions of your prescription lenses is to have dedicated mono-focal prescription lenses that you can use for reading.

2.      Adjust your Computer Screen to You: If your computer monitor is too high, you will be looking up for hours. If your computer monitor is too low, you will be looking down for hours. These sustained postures are likely to cause a pain in your neck. The Canadian Centre for Occupational Health and Safety has some great tips to help you adjust your monitor and prevent neck pain.

3.      Monitor Your Chin: Maintaining a neutral, stress-free posture when reading or using a computer can be simple if you monitor the position of your chin. If your chin is more than a five finger breadths away from your chest, that means that you're arching your neck. If your chin is less than three finger breadths away from your chest, then that means that you're flexing your neck. Check with your doctor or physical therapist to find the best position for your chin and neck.

4.      Keep Your Shoulders Back and Your Chest Forward: The shoulders provide the base of support for your neck. Shoulders that drift to far forward, as the chest caves in, causes the head and neck to careening forward as if you were a turtle. Without a good foundation of support starting with your upper torso and shoulders, the neck tends to crumble.

5.      Maintain Good Shoulder Strength: The shoulders are a foundation of support, and because of this they need to be strong. Good muscle tone especially between the shoulder blades, where the rhomboid muscles reside, is critical for preventing neck pain.

6.      Use Arm Rests Whenever Possible: No matter how strong your shoulder and neck muscles are, you need to give them a rest sometimes. Armrests are an important way to keep the weight of your arms from constantly pulling on the neck muscles. Fatigue in these muscles eventually causes pain.

7.      Use a Good Supportive Pillow: While you are sleeping, you need to maintain good sleep posture. A pillow that is too thin can cause your head to reach for the pillow. A pillow that is too thick can force your neck to bend a certain direction all night. If you wake up with neck pain, try a different pillow.

8.      Adjust the Vehicle Headrest to a Proper Height: The Insurance Institute For Highway Safety (IIHS) recommends that the vehicle headrest be positioned at the center of your head. In the event of a sudden stop, the headrest can then help to prevent the neck from whipping back and forth.

9.      DO NOT SMOKE: Smoking is the fastest way to ruin your spine! According to a study reported in Spine 2004, spinal discs can degenerate very rapidly in smokers. A smoker's spine does not heal quickly after an injury or surgery if at all. In fact, if you quit smoking now, you will probably have less pain later.

10.   Watch Your Weight: You may not realize that your body weight affects your neck, but it sure does. Your arms get heavier and your breasts get heavier as you gain weight. Furthermore, your shoulder blades spread apart as you gain weight also. All of these changes in an obese body increase your likelihood of developing neck pain.

Exercise Tip: One of the most important exercises for preventing neck pain is rowing.
(Article Published On: April 02, 2012)
The Institute of Chiropractic & Acupuncture Therapy provides care in Salt Lake City and surrounding areas including West Jordan, South Jordan, Sandy, Draper, Taylorsville, Murray, Riverton, Herriman, Bluffdale, Cottonwood Heights, Holiday, Millcreek, West Valley City, and South Salt Lake.  We also provide service to patients that come from the Utah County area and as far north as Logan, and even some from out of state…come experience the difference at The Institute!