Essential Essence Oil Blends
Essential oils have been used for more than a thousand years for countless health problems and conditions as well as for use in daily living (cleaning, perfumes, etc.). While "everything" works on someone, no "one thing" works on everyone. The following benefits from the single oils have been collected from many different sources. These statements have not been evaluated by the FDA and are not intended as medical advice. Always consult your doctor before using essential oils for therapeutic purposes.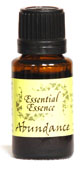 Abundance (Neat) $45.00
Contains – Orange, Spruce, Patchouli, Clove, Frankincense, Myrrh, Cinnamon Bark, Lemon, and Cypress. This blend was formulated to enhance magnetic energy, create the law of attraction through the magnetic field around us, enhance our thought to concentrate on what we want, and to put out an electromagnetic field of abundance. It seems to attract prosperity in any area you focus your attention… Read More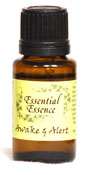 Awake & Alert (50/50 GSO) $29.00
Contains – Organic Lemon, Organic Orange, Organic Anise Seed, Organic Black Cumin, Peppermint, White Cedar, Clove Buds, Ginger Root, Ravintsara, Lemongrass, Spearmint, Organic Eucaluptus Radiata, Cinnamon Bar, Lavender Stoechas, Sandalwood, Organic Helichrysum Italicum, and Frankincense. This blend is a good all around maintenance oil, a powerful purifier, has a positive effect on all the systems of the body, and supports physical energy. It relieves mental fatigue, improves concentration, sharpens the senses, improves memory, and assists in mental recall… Read More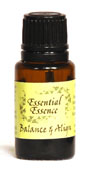 Balance & Align (25/75 FCO) $35.00
Contains – Rosewood, Spruce, Frankincense, and Blue Tansy. This blend has been found beneficial in helping align the physical structures of the body relieving pain along the spine and in other joints. It also balances and aligns electrical energies, meridians, and chakras within the body. Emotionally it assists in overcoming fear and opposition so one can stand tall during adversity… Read More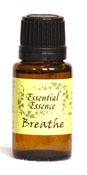 Breathe (Neat) $29.00
Contains: Eucalyptus globules, Eucalyptus citriodora, Myrtle, Eucalyptus radiata, Peppermint, Spruce, Ravintsara, Pine, and Marjoram. Formulated to assist the respiratory system and is beneficial for viral, bacterial, and fungal infections. This formula may be beneficial for bronchitis, pneumonia, asthma, laryngitis, flu, fevers, colds, coughs, sore throats, cold sores, sinusitis, lung infections, and expelling mucus… Read More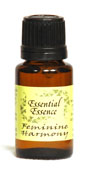 Feminine Harmony (10/90 Jojoba) $25.00
Contains: Vetiver, Clary Sage, Sandalwood, Linden Blossom absolute, Bergamot, Petitgrain, Cinnamon Bark, Neroli, Lemon, and Orange. This blend was formulated specifically to help alleviate imbalances associated with the female endocrine system. It is beneficial in helping one overcome depression and anxiety as well as settling mood swings and emotions during the menstrual/premenstrual cycle… Read More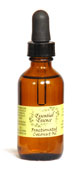 Fractionated Coconut Oil $8.00
2 oz. (60 ml.) Used as a carrier oil.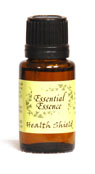 Health Shield (Neat) $40.00
Contains: Clove Bud, Cinnamon Bark, Lemon, Eucalyptus radiata, Thyme, Orange, Oregano, Nutmeg, Rosemary, Mandarin, Ginger Root, and Citronella. Formulated to strengthen the immune system and is a powerful all around maintenance oil. It is beneficial against infections, inflammation, viruses, bacteria, fungus, parasites, and microbes. The oils in this blend help protect the body from the onset of malaria, flu, colds, and coughs… Read More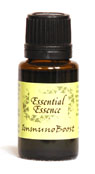 ImmunoBoost (25/75 FCO) $17.00
Contains: Frankincense, Juniper Berry, Nutmeg, Holy Basil, Ravintsara, Rosemary, Oregano, Ginger, Blue Tansy, Black Cumin, Clove Bud, and Hyssop. Formulated to build, strengthen, and protect the body and is an incredible immune system builder. It is beneficial for strengthening the body against infections, viruses, bacteria, fungus, parasites, tumors, and inflammation. It also fights the spread of contagious diseases… Read More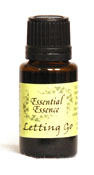 Letting Go (10/90 Jojoba) $20.00
Contains: Lavender, Rose Geranium, Elemi, Sandalwood, Blue Tansy, Ylang Ylang Extra, German Chamomile, and Cypress. This blend was formulated with the objective of enhancing the release of memory trauma from the cells of the liver where anger and hate emotions are stored. The vibrational frequency of this blend assists in the letting go of negative emotions and frustrations more easily, gently, and with love and forgiveness so that one can progress more effectively… Read More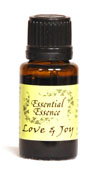 Love & Joy $50.00
Contains: Lemon, Orange, Rose Geranium, Bergamot, Mandarin, Ylang Ylang Extra, and Rose. This blend contains rose oil which has one of the highest vibrational frequencies of all the oils. It is formulated to bring joy into our lives. When inhaled it brings back memories of being loved and sharing love with others. It also helps one with opening and overcoming the obstacles that prevent one from feeling or receiving love from others or loving oneself… Read More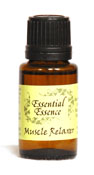 Muscle Relaxer (Neat) $36.00
Contains: Birch, Peppermint, Nutmeg, Clove, Pennyroyal, Black Pepper, Oregano, Thyme, and Marjoram. This blend was formulated with oils specifically for their abilities to relax, calm, and relieve the tension of spastic muscles resulting from sports injuries, fatigue, or stress. It is anti-inflammatory and assists broken or bruised bones, muscle and joint discomfort, sprains, and swelling… Read More
Pain & Healing (Neat) $42.00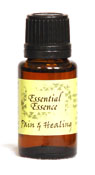 Contains: Helichrysum gymnocephalium, Birch, Clove Bud, Cypress, Peppermint, and Marjoram. Due to the aspirin-like properties of Birch and the anti-inflammatory properties of the other oils, this blend assists in reducing pain and stimulating quicker healing. It helps to relieve the symptoms of sciatica, bone pain, arthritis or rheumatism, muscle and joint discomfort, and supports healthy circulation and tissue oxygenation… Read More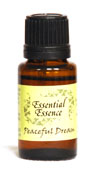 Peaceful Dream (10/90 Jojoba) $24.00
Contains: Sandalwood, Patchouli, Ginger Root, Jasmine, and Petitgrain. This blend was formulated to help open the mind, enhance the dream state, and to help one visualize their visions and goals locking them into the mind so that one dreams with intent and purpose. It may also serve to protect one from negative dreams that would steal ones vision. It has been shown to be beneficial in assisting children with nightmares and in sleeping more soundly. Application: Rub on forehead, eyebrows, behind ears, on temples and base of neck. Wear as a perfume. Put under nose or on pillow for dream awareness. Use for mediation. Add to bath water. Diffuse during sleep or meditation.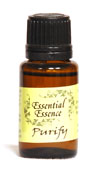 Purify (Neat) $26.00
Contains: Lemongrass, Rosemary, Tea Tree, Lavender stoechas, Myrtle, and Citronella. Formulated especially for diffusing to kill airborne anaerobic bacteria, viruses, mold, fungus, and to neutralize mildew, cigarette smoke, and eliminates other noxious odors. The aroma is very cleansing. It is beneficial in neutralizing poisons from insect bites, spiders, bees, hornets, and wasps. It also repels bugs, insects, and mice that would live in homes, offices, etc… Read More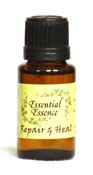 Repair & Heal (Neat) $40.00
Contains: Rosemary, Tea Tree, Clove Bud, and Helichrysum italicum. This blend was primarily formulated to assist with building and regenerating connective tissue from damage or injury. The strong antiseptic properties of the oils in this blend make it excellent for cleansing and healing cuts, bruises, skin rashes, scrapes, and insect bites. The oils in this blend are anti-spasmodic, anti-viral, anti-bacterial, anti-fungal, anti-parasitic, anti-inflammatory, and wonderful pain relievers… Read More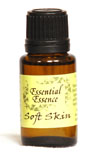 Soft Skin (25/75 FCO) $23.00
Contains: Rosewood, Palmarosa, Elemi, Ylang Ylang Extra, Geranium, Patchouli, and Rose. Beneficial for general skin care, assists with dermatitis, acne, broken capillaries, oily skin, rashes, congested and mature skin, scaly and flaky skin. The oils in this blend benefit skin regeneration and are used to prevent and retard wrinkles, enhance the youthful appearance of skin, and assist skin elasticity and stretch marks… Read More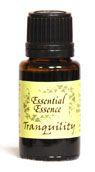 Tranquility (Neat) $35.00
Contains: Orange, Tangerine, Patchouli, Lime, Ylang Ylang Extra, Lavender, Blue Tansy, German Chamomile, and Citronella. This blend was formulated to promote relaxation. It assists in reducing depression, anxiety, stress, and tension. It balances and stabilizes the emotions, promotes patience, and calms worries. It may assist hyperactive children in creating serenity and has been found… Read More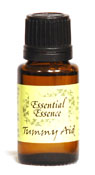 Tummy Aid (25/75 FCO) $12.00
Contains: Peppermint, Juniper Berry, Anise, Fennel, Ginger Root, and Tarragon. This blend was formulated to balance intestinal activity. It may be beneficial in digesting toxic materials, alleviating indigestion, cramps, upset stomach, vomiting, belching, bloating, heartburn, gas, colic, nervous tension, anxiety and stress, motion sickness, jet lag, morning sickness, urinary tract infections, diarrhea, and hiccups… Read More